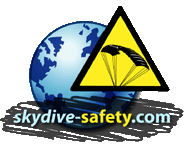 Helmet Quick Release Handle for use when installing a GoPro on a traditional full face helmet.

© Skydive Safety 2007
E-Mail
Skydive Safety

The following articles have been written by industry professionals to help you increase your skydiving knowledge.
See also knowledge base for instructors and knowledge base for riggers for more advanced information.