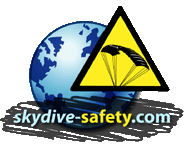 Skydive Safety is building a database of all books that include skydiving, with reviews from skydivers.
Can you help? Do you know of any books that we can include here?


By: Brian Germain
You need look no further than the book cover of this book for recommendations. Shannon Pitcher says that "it's the best book on the topic of ram-air parachutes for all skill levels". The most important part of this statement is all skill levels-please don't think that this book is only aimed at those skydivers who are interested in swooping. Brian Germain has been designing, building and flying parachutes for a long time and writes in a very informative and easy style. He has designed many parachutes such as the Lotus, Samurai, yet he never tries the hard sell approach to his own designs, which is particularly refreshing. Equally impressive is his willingness to use examples of his own, sometimes painful, mistakes in the hope that you can avoid them.
The book is split into two main sections. The first is called "The Magnet Under The Table" and explains aerodynamics, control inputs, flying in turbulence, navigation and accuracy, landings, high-speed approaches and design concepts. Of particular interest to those looking to downsize, or instructors advising on kit decisions, should be Brian's "Wing-Loading Never Exceed Chart". The second part of the book is called "The Human Element" and discusses psychology and physiology, fear and learning, stress, visualisation and teaching. I didn't think I would particularly enjoy this section of the book as much as the first, but it became a real page-turner.
You may think, as I did, what does all it have to do with canopy piloting? Well, as Brian says,"understanding ourselves is perhaps the ultimate defense against gravity". The book is by no means aimed solely at swoopers. However, if you are already swooping or interested in learning how, please resist the temptation to skip straight to the "High-Speed approaches and landings" chapter. The book contains useful information from start to finish and made me smile - and occasionally wince! If you have done a canopy course (such as Brian Vacher's or Chris Lynch's excellent courses) then you will find this to be a valuable resource. If you haven't done such a course then I would recommend you do one as soon as possible and read this book! Review by: Gary "Swoop" Wainwright

By: Paul Burns
On 27th August 1979, Paul Burns's life changed for ever, newly recruited to the parachute regiment, he was performing a tour of duty in Northern Ireland when a four-tonne truck in which he was traveling was destroyed by a massive IRA Bomb. Eighteen of his friends and colleagues were killed in the warren point blast. The British army's biggest single loss of life during the troubles. Paul barely survived. His body was broken. His left leg was amputated below the knee. His skin was burned down to the bone. Those who saw him wondered if it might be kinder to let him die. But Paul refused to be beaten. He had made a promise to himself that he would make up for the loss of his friends lives by living his own life to the full. His story is a remarkable tale of one man's determination to make the most of his life against all odds. Paul went on to become a BPA advanced parachute rigger, and joined the famous Red Devils freefall display team. He performed as a parachute display jumper, promoting the sport of parachuting during events all around the world.

By: Graham Smith
The Red Devils, Britain's most famous free-fall parachute team
What is it like to be a member of the Red Devils and freefall at 120mph in the space of 12 seconds? How do you get into the team? What qualities do you need? In this book writer Graham Smith and free-fall team photographers Graham Robertson and Ian Barraclough capture the essence of what it is like to be a member of this elite squad. Based on interviews with members of the team and illustrated with spectacular full-colour "in the air" photographs, this is the story of today's Red Devils - their history, selection, training and displays.