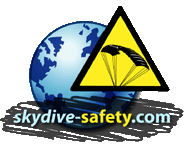 The safety information database has been designed for use by the skydiving industry; it allows for a quick search of safety reports relevant to specific products. It provides education and training for reserve packers & riggers, who can learn from previous incidents and prevent repetitive mistakes from recurring.
This is a real time up to date database for all skydivers, reserve packers and riggers.
Safety notices/bulletins are a fact of life, they are issued by manufacturers, parachute associations and government agencies to keep skydivers updated and safe. Our equipment then gets upgraded or modified accordingly.
However, the system has many problems and the task of making sure your equipment is free from safety notices/bulletins has proven to be both very time consuming and not very accurate.
There are over 2,000 safety reports on parachute equipment from 106 manufacturers and 24 parachute associations and government agencies.
This is no longer a task that can be left to manually searching paper files or relying on memory, which has been greatly relied upon for many years. If you have any questions please e-mail Skydive Safety
Select one of the registration options below for more detailed information or register to search for safety information on your equipment

The Safety Information Database is available as a guide, and help for industry professionals. It is as comprehensive as we could make it, but we can not guarantee that it's a full and final list of all safety notices published. It's the responsibility of the industry professional using this database to ensure that manufacturers and parachute associations have contributed all their safety information or safety notices.
If you are aware of any safety information or safety notices not published in our database please let us know so we can continue to support reserve packers and riggers with a one stop location to research safety information.
© Skydive Safety 2007
E-Mail
Skydive Safety



User Registrations

Supplier Registrations

Annual Costs including vat

Free

£10

£55

£35

Free

Free


We no longer have to rely on memory.
We no longer have to rely on a paper trail with information being lost.
New packers, riggers, instructors, etc can now learn from other peoples mistakes by using the equipment study guide.
One source means it's the fastest and most reliable method to ensure a rig has no safety reports pending.
Easy to use and always up to date.
Totally unbiased international system, no borders or rules to prevent or delay passage of information.
Safety reports are available to view and print.
Real time passage of information direct from manufacturers, parachute associations to the skydiving industry with one click of a button.
E-mail support system, write in with any query about either the safety information database or your equipment concerns.
Allan Hewitt originally presented the safety notice database to members of the BPA at an annual AGM back in 1996, at this time it was a windows 95 installation disk, for a complete history of this project read the History Page.
The initial setup is in English, however the complete website including the safety reports will be translated to allow members of the skydiving community to use this website in the language they choose. This is of course a massive undertaking but the benefits will ensure the success of this project being a true world wide system.
All safety reports will be distributed in the language of the publisher in real time. However, other language reports will be uploaded when the translations are verified.
The Safety Information Database (SID) is going through two phases to guarantee accuracy and relevancy
Phase 1 is now complete with safety reports online from sport parachute manufacturers,associations and government agencies. These have all been integrated into the Database.
We are now asking parachute manufacturers and associations to log in and personally inspect and verify this information, once this has been done we will move onto Phase Two.
Phase 2 is the key to making it easy for riggers and reserve packers to ensure that all equipment you work on, is free of all relevant safety reports while reducing your administration time and improving safety.
This project has taken hundreds of hours to complete and over €5,000. If you find this system useful please help financially by one of the means below so we can continue to improve safety within skydiving. Our goal is to make this free to all skydivers but we can only do that with the support of the parachute associations. Please lobby your association to make this a free service.
Please let your customers know about skydive safety